CincySCCA 2021 Challenge Event / PE8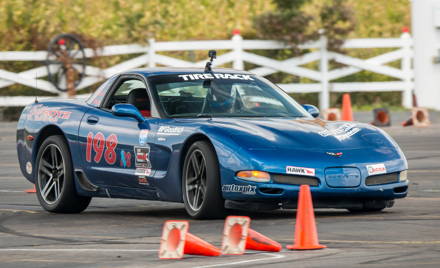 SCCA - Cincinnati Region - Solo
Saturday, Oct 23 — Sunday, Oct 24, 2021
Traders World
,
Lebanon

,

OH
Registration closed October 21, 2021 9:59 PM at 2021-10-21T18:59:00-0700 Registration ends October 21, 2021 9:59 PM at 2021-10-21T18:59:00-0700 Registration opens September 9, 2021 10:00 PM at 2021-09-09T19:00:00-0700 Registration runs from September 9, 2021 10:00 PM to October 21, 2021 9:59 PM
Cincy SCCA Solo COVID-19 Operating Guidelines Executive Summary
(Up to Date Full Version Available on our website)
Event may be canceled to comply with COVID-19 mandates
Do not attend if you are or have been sick with COVID-19 type symptoms in the past 14 days
Preregistration/Prepay only,

NO Onsite/Walk-up Registrations

Please Signup for the Online Waiver (SpeedWaiver), which will make the waiver process much faster with less contact
Spectators are discouraged

YOU ARE REQUIRED TO BRING YOUR OWN FACE MASK TO THIS EVENT

If you have not been vaccinated, in accordance with Ohio and CDC Covid guidelines, please wear a mask/facial covering when not wearing a full-face helmet
Social distancing measures are required on site
Requested to bring nitrile or latex gloves for your work assignment
Drivers' meeting will be held over PA and FM Radio

VERY LIMITED NUMBER OF LOANER HELMETS WILL BE AVAILABLE

Passengers allowed with PPE or Full Face Helmets with shields down for both
Co-driving is permitted with social distancing
Credit Card will not be charged until registration closes
If event is cancelled after registration closes, we will refund or credit
* We continue to monitor the situation closely and will provide updates as we receive them. We appreciate your understanding. If you have any questions, feel free to contact us via email or on Facebook message (https://www.facebook.com/groups/CincySCCASolo/)
Challenge Event (Sat) / Point Event 6 (Sun), Special Discount!
Get $5 off when you register for both days!
Saturday: Challenge Event
Sunday: Great Lakes Divisional / Cincinnati Region Point Event #8
* If you are registering for both day, and one of the day is sold out, your status will show waitlisted for the both days. However, your entry is confirmed for non-sold out day. You will be contacted by registrar on or before the registration close day for your final entry status. If you have any change in your schedule and would like to remove yourself from the waitlist, please contact us. If you are on the waitlist, and when there is an opening and your entry is accepted, you will be automatically entered to the event and the account will be charged.
Welcome to CincySCCA Solo (Autocross) Program
Do you like to drive hard? Test your car control skills? Then the SCCA Solo program is for you! Solo is SCCA trademark for our autocross program. It is a Precision Driving Competition. During autocross, drivers compete against the clock as they navigate tight technical courses in an everyday driving car, or a specially prepared race car! It is a Fun, Challenging, and Safe driving competition, and it is also a great learning opportunity of car control skills.
All you need to join our event is to register, and bring your road worthy cars (some exception may apply).
If you want to run an event with us, but have no idea how to fill out this form.. DON'T WORRY! We are here to help! Email us at SOLO@CincySCCA.com, or visit our Facebook page http://facebook.com/cincyscca and message us.
Autocross competition is broken down into a number of classes so that virtually any car can be competitive. So whether you own a Corvette or a Camry, you can be sure you'll have a great time.
For those new to autocross (roughly 1 year or less), the CincySCCA Region highly encourages participating our novice program. Those who register in one of our two Novice Index classes (based on car & modifications) can be paired with experienced drivers to help with all aspects of the events (including driving techniques). Whereas it is highly encouraged, it is not mandatory but does offer the opportunity for novices to run with others at similar experience levels.
For more information about race dates, location and entry fees, check out the Solo schedule of events and the Solo supplementary regulations. You can find more information on our website CincySCCA.com, and be sure to join our Facebook group (Please answer the join request questions!) CincySCCA Solo -Autocross.
If you are SCCA Member
***Your SCCA Member#, First & Last Name MUST match your national SCCA Membership exactly***
***Your SCCA Membership will be verified based on the events date. If your membership expires before the event dates, please renew your membership before registering or you will be charged for the weekend membership***
IMPORTANT NOTE FOR PARENTSof Minors under the age of 18
All Minors in "Hot" Area (Grid, On Course Competing or working) MUST have a properly executed SCCA minor waiver, this includes signatures from BOTH parents, or have signed affidavit of sole custody.
All Minor waivers and affidavit must be signed and notarized, signed in front of another SCCA member to witness, or signed at the Waiver Station at the event (by BOTH parents). Un-notarized or witnessed signatures will not be accepted at the gate. If both parents are not coming onsite please use the link below for Minor waiver form to be notarized or witnessed by third party SCCA Member.
Minor Waiver and Affidavit of Sole Custody (Must be printed in color and to be notarized) can be found on this page
https://www.scca.com/downloads
Under SCCA General Section, please look for SCCA Minor Notary #### V# ####

Must be printed in Color
Must be notarized
Both legal parents have to sing, or please fill Affidavit below

Under Solo Section look for the Waiver - Affidavit of Sole Custody

Must be printed in Color
Must be notarized
*Please contact us for any questions or concern. Minor Waiver MUST be completed in order to attend (Compete or be in Hot Area) our Solo Events. No Exceptions!!
*Please make colored copy of the notarized form to the event and show at the gate IF the forms were to be sent prior to the event, and have not received Annual Waiver Membership Card
*Children under 12, except Junior Drivers, are not permitted in "Hot" areas per the Solo Rules section 1.3.2.O; therefore, a minor waiver is not necessary
**Please read our loaner helmet policy concerning recent Coronavirus outbreak.
http://cincyscca.com/2020/03/solo-loaner-helmets-policy/
Event Schedule (all times approximate)
Site Opens: 7:00am
Registration/Check-in: 7:30-8:30am (Everyone Must Check in by 8:30 or you will be charged for $20 Late Fee and may lose your spot!)
Tech inspection: 7:30-8:45am (Accept annual tech from other SCCA regions)
Mandatory drivers meeting: 9:15-9:30am
First car off: 10:00am
Trophy presentation: ~ 4:00pm (when applicable)
Fees
Autocross 101 Noive School: $50
Point Event: $40
* Non-SCCA-members an additional $15 to cover the required SCCA weekend membership.
* Payment will be processed when the registration closes. For any cancellation after registration closes, please refer to our cancellation policy.
* Price may vary for Special Events (i.e Test and Tunes, Schools, etc)
We are very excited to be at Traders World! Remember that we are guests at the site and competitors and their friends are expected to act accordingly.
Truck, trailers, and cars can be left onsite overnight Sat. Site is locked by 7:00pm. Onsite camping is prohibited but parking for overnight camping is available outside the fence on the north end of Traders World property
Please preregister and prepay for events early. If cap has been reached register on the waitlist as many times most waitlisted people get in due to cancellations. Walkup registrations will not be available. Online registration really helps get our competition day off to better start and will save you a few dollars. Even if you are wait-listed, it will give you priority over those who register later onsite.
ENTRY CAP: 175 (Each Day)